Carol C. Wheelock, M.Ed. has studied feng shui in the United States and China. She received a Certificate in Advanced Feng Shui Studies from Feng Shui Designs, Inc.. For many years she explored energy, dowsing, color, interior design, and Native American cultures. She has integrated these perspectives into her practice of "western" feng shui which she began studying about ten years ago.
Carol is an experienced classroom teacher and school librarian. She works with schools and libraries to design new spaces and improve existing spaces. She teaches Creating Environments that Support Teachers and Students.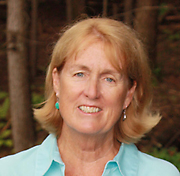 She now enjoys teaching feng shui workshops throughout the United States. She recently co-taught a course at Johnson State College (VT) with Labyrinth Consultant Judith Joyce on Integrating the Ancient Healing Wisdom of Feng Shui, the Labyrinth, and the Chakra System.
As a feng shui practitioner Carol is committed to making recommendations that are compatible with her clients' lifestyles and tastes in decorating. Unless requested to do otherwise, she works with what her clients already have and discusses with them possible ways to accomplish their goals. Carol educates her clients as she does a consultation, giving them a mini workshop so that they understand basic feng shui principles that they may continue to use on their own.
A New View on Design is an interior design and decorating business that combines the ancient art of feng shui with interior design principles to create beautiful, practical, and harmonious spaces. Mary Brothers, former owner of The Collection in Waitsfield, VT, and a decorator/designer with over 20 years experience, is her partner in this business.



Copyright 2000-2011 Feng Shui Vermont
Carol C. Wheelock